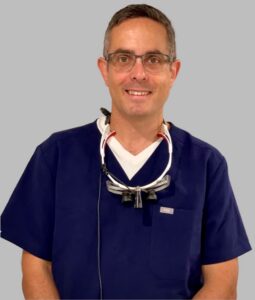 Dr. Danny DeRose is a 2006 graduate of the Ontario Veterinary College in Guelph Ontario and is Board Certified by the American Veterinary Dental College.
Dr. DeRose worked in general and emergency medicine for 3 years after graduation.  Following this, he owned and operated a general medicine practice in York Region for 8 years before deciding to pursue a specialization in Dentistry and Oral Surgery.
From 2017 to 2021 Dr. DeRose went on to complete a residency in Dentistry and Oral Surgery at Hale Veterinary Clinic in Guelph Ontario.  During his residency, he also completed advanced training courses in the United States and Europe.
Dr. DeRose has lectured to veterinary students, as well as provided hands on training for veterinarians on dental extractions.  He derives much satisfaction in providing animals a new lease on life by alleviating the discomfort caused by the vast array of dental related disorders.
Dr. DeRose is excited to be working in this vibrant city and joining the team at VEC.