Diplomate ACVECC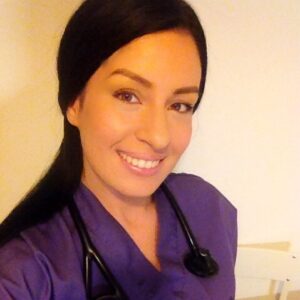 After obtaining her bachelor of science degree at the University of Guelph, Dr. Lillian Cousto attended the Royal Veterinary College (RVC) in London, United Kingdom, graduating in 2015.
Following graduation from RVC, Dr. Cousto decided to pursue advanced veterinary training and went on to complete a rotating internship at the University of Saskatchewan. During her internship she became invested in the practice of critical patient management and went on to pursue a residency in Emergency & Critical Care at the Ontario Veterinary College, which she completed in 2019. Dr. Cousto is Board Certified by the American College of Emergency and Critical Care.
Dr. Cousto has a keen interest in respiratory therapies including high flow nasal oxygen therapy, which is offered at the VEC, as well as in extracorporeal therapies. She earned a certificate in Hemodialysis & Extracorporeal Therapies through the University of California Davis in 2020.
In her spare time Dr. Cousto is an avid hiker and enjoys to travel. When she is not at the VEC, or travelling the world, you can find her spending time with her cat Chekov, her quaker parrot named Joji  and her handsome border collie named Caicos.